---
Urgent Care Scenario Underscores Maternal Health Challenges for Low-Income Johnson County Women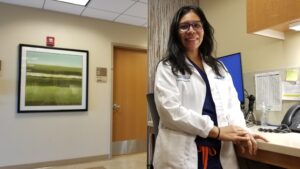 Dr. Annabel Mancillas is an OB-GYN at the University of Kansas Health System. She sees safety-net clients as part of her faculty appointment at KU Medical Center.
It wasn't the optimal solution, but Uber represented the best fallback option for Johnson County community health workers who were recently helping a Hispanic mom get one of her preemie twins to urgent care.
The staffers at the Johnson County Department of Health and Environment (JCDHE) worried that the woman — who is also the daycare provider for a toddler in the household — would not make it out the door by the time the impatient driver left. The next question was how the woman would get home from the clinic.
The fact that the client did not speak English compounded the difficulties.
Front-line JCDHE personnel presented that example as part of a maternal health roundtable discussion convened by the department.
Specific details of the case have been limited to protect the family's privacy. But the transportation dilemma and other needs of this one family highlighted many of the barriers uninsured and underinsured mothers face in obtaining pre- and post-natal care in Johnson County.
Services the department provided to this young family also included securing a car seat and a pack 'n' play, ensuring access to special formula for premature babies, and checking into Medicaid coverage.
On the whole, Johnson County women have healthier pregnancies than statewide averages, according to JCDHE's current community health assessment. 
Yet there are racial disparities. For instance, Black and Hispanic women in Johnson County are less likely than white women to begin prenatal care in the first trimester, and those women of color are more likely than white mothers to deliver low-birth-weight babies.
Dr. Annabel Mancillas is one area physician who is attuned to the struggles that low-income women, and their families, have in maintaining healthy pregnancies.
A first-generation Mexican-American, born in Hutchinson, Kansas, Dr. Mancillas is an OB-GYN at the University of Kansas Health System. Part of her work involves treating women, many of whom are immigrants, through JCDHE and safety-net clinics in Wyandotte County.
She knows the broader benefits of a healthy mother.
"When our moms thrive, their children thrive, and our communities thrive," Dr. Mancillas said. In particular, she noted, that means the benefits of postpartum care are not limited to the mom. "It really affects the whole community — it affects their children when they go to school, it affects their peers at school, how they interact with others, their ability to learn …"
Participants in the JCDHE roundtable said solidifying funding for community health workers, through Medicaid or private insurance, is one way policymakers could help serve low-income moms in Johnson County and around the state. They said local governments typically fund these positions through grants.
The JCDHE staffers also said the Fourth Trimester Initiative, a statewide collaborative launched in July 2020, holds promise in decreasing maternal maternity and morbidity. 
But the toughest nut to crack, as health officials and patients know all too well, is simplifying our fractured and complex health system.
That is especially true for non-English speakers, who have an even tougher time understanding billing jargon, drug prescriptions, and specialist referrals. Sometimes interpreters might, for instance, speak basic Spanish but not a particular indigenous dialect.
And as the Uber scenario with the Hispanic mom indicates, even basic transportation is difficult for families living on the edge. Dr. Mancillas sees that with her safety-net patients.
Pregnancy is often cause for celebration, "but when we are thinking about patients that have limited, or no, access to insurance, it is also a very stressful time," she said, "not knowing if you can make it to the hospital, or what is going to happen if I go into labor when my partner is at work with our only vehicle."
She hears that a lot.
The families "still want to do everything for their baby to be healthy, but they are physically unable to get there or navigate the system."
---
Beloved Mutt Finally Opens Eyes of Domestic Violence Victim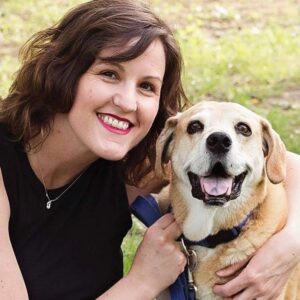 Trish Reedy's dog, Peter, was her last lifeline as she endured an abusive relationship in Kansas City, Missouri, shortly after graduating from Kansas State University. Her boyfriend's insistence that she get rid of the dog finally prompted Reedy to call the national domestic abuse hotline and to sever ties with the boyfriend.
Trish Reedy moved in with the guy only a couple months after he charmed her at a bar on the Country Club Plaza, but she was already lonely, isolated, and depressed by the time she found herself holding a round piece of felt to her cheek for hours.
Her boyfriend demanded the exercise to prove that her dog, Peter, the yellow-lab mix she had adopted before her recent graduation from Kansas State University, had to go because he was disgusting. He said the gunk on the scratch protector now pressed against her face, taken from the bottom of a chair leg, proved it.
By this time, the man that Reedy ultimately realized was a master manipulator had: told her she was a slut for relationships she had in college; convinced her that he pushed her down a half-flight of stairs in self defense; and bizarrely claimed that he choked her to the point of passing out to prove that, despite being suicidal at that point, she really wanted to live because she woke up from the attack.
"This is stupid," Reedy thought to herself during the Peter episode.  "I don't think my dog is dirty and gross, and I'm not going to get rid of him."
The potential loss of that lifeline finally prompted Reedy to call the national domestic violence hotline a day or two later , and by merely asking what constituted domestic violence, she realized she was acknowledging she was a victim.
Reedy called her brother, who left a happy hour with his buddies, and then waited patiently outside the house for a good four or five hours as the couple argued whether Reedy should leave. Her brother finally convinced her to leave just long enough to get something to eat; she was exhausted and starving.
That was it. She returned only to retrieve her belongings under the watchful eyes of police protection.
Now 39-years-old, Reedy lives in Overland Park with her husband of 10 years and their two daughters, ages 7 and 9. She is a mortgage broker and serves on the board of Safehome, a domestic violence agency in Johnson County.
Her escape from that abusive relationship came more than 15 years ago, but she can still taste that wonderful Nick and Jake's hamburger she ate when her brother rescued her — on a Friday the 13th in October no less.
More unsettling is the nausea she still feels at the smell of spearmint — a reminder of her former boyfriend's chewing tobacco habit. Other triggers can come out of nowhere, where she might grab the arms of a chair and stiffen up when a simple conversation reminds her of the terrible experience.
Reedy wishes she would've listened to the friends who were telling her that she was not in a good, safe, loving relationship. And if there is one thing the unconditional love her family showed her through the ordeal — despite the awful, horrible things she said to them — is that loved ones must wait for the victim to decide for themselves that the relationship is no good.
But most of all, Reedy said, men must step in if they think their buddy is hurting a woman in their life.
A change in perspective is in order, she said. "It's not, 'Who are the victims?' It's, 'Who are the abusers?', and that's where more of the attention should be placed."
---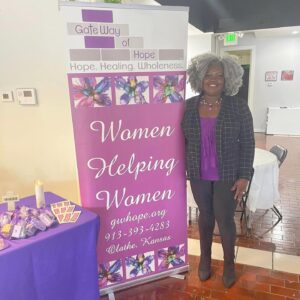 Gloria Derritt, a counselor at GateWay of Hope, represented the counseling center at the Mental Health Awareness Day that JBR Women's Ministry put on last month in Kansas City, Missouri.
It was intermission of the Motown musical at Starlight Theatre, and not long after Gloria Derritt struck up a conversation in the bathroom line, her new acquaintance was unloading about her problems.
Laughing at the memory, Derritt said, "I was just like, 'OK, OK, well sure, hey, I've had my share of life's struggles and troubles,' and she just — it was kind of like a counseling session just standing in this line."
That situation was unusual, but Derritt, 54, has a motherliness about her that naturally puts people at ease — either informally or in her work as a counselor at GateWay of Hope, a faith-based nonprofit in Olathe, Kansas, dedicated to serving the mental health needs of women.
Derritt's own backstory can also inspire others, including GateWay of Hope Executive Director Dacia Moore, who knows that today's women are in a tough spot.
Stay-at-home moms wonder if they should be working outside the home, and working moms feel guilty about not being home with their kids — while Moore said our mobile society may mean the woman is far away from family support. Women trying to do it all, sometimes feel like they are doing nothing well.
Predisposed to being fixers, Moore said women can be more pessimistic than men by focusing on what is missing. And with all the stressors brought on by the pandemic, Moore said, "People who are already worriers are probably worse worriers now."
Derritt is the women of color outreach coordinator for GateWay of Hope, and though she is now happily married with a blended family of five kids (ranging in age from 31 to 17), she was at one time a worried 23-year-old with an unplanned first pregnancy. And then a dozen years later, she was a struggling single mom after her divorce.
At one point, a couple at her church, Sheffield Family Life Center in Kansas City, Missouri, announced they had some food to give away. The offer was probably aimed at her, Derritt said, but the couple kept it general to spare her any embarrassment.
"I'm not going to ask him for food," she told herself. She ultimately swallowed her pride and told the man she and her boys could use some food. He was there the next week with his van.
Derritt also found GateWay of Hope through church, when a flier from the agency appeared on a table during choir rehearsal. Gateway of Hope's call for assistance seemed preordained because the Lord had been telling Derritt during her prayer time that she should find a place to volunteer.
Her volunteering began as she was working on her bachelor's degree in biblical counseling, and she has gone on to earn her master's in counseling as well.
The stigma against seeking mental health counseling is strong among women of color, Derritt said, either through a sense of pride or a culture of privacy. Women of faith may also resist help outside of church, even though the Bible talks about wise counsel.
"It is so important that people of faith don't have to feel like they are walking out on God because they decided to get some counseling," Derritt said. "I believe it can all work together to bring about a healthy person for mental health." 
---
Olathe Mother, Daughter Praise Safety-Net Services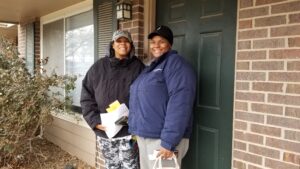 Kim First, left, and her daughter, Journey Luster, stand outside their Olathe apartment. Rental assistance is one of many benefits that help sustain the pair.
If it is always darkest before the dawn, winter was pitch black for Kim First four years ago.
It was then that she spent nearly three months living in her Jeep Liberty with her teenage daughter, overnighting in places like the parking lot of a former grocery store in Kansas City, Kansas.
The situation brightened in February 2019 when First, 44, and her daughter, Journey Luster, moved into the Salvation Army's family shelter in Olathe. Mother and daughter can't say enough good things about Mina Foster, the housing services director at the Olathe Salvation Army.
"I tell Mina all the time that I didn't know what it was like to be blessed until I came here," First said.
She and Luster, 19, are also grateful for the above-and-beyond support of Heather Schoonover, the Olathe Public Schools' community liaison. Schoonover's help included navigating Luster through the college application process and giving her stuffed animals for her bedroom when she and her mom moved into their Olathe apartment last year.
First and Luster are, in fact, examples of how the array of Kansas safety-net programs can be lifelines for a family in need.
When Luster was younger, the state paid for childcare and also provided food staples through the Women, Infants, and Children (WIC) program.
Nowadays, the Olathe Housing Authority is providing rental assistance, the Supplemental Nutrition Assistance Program (SNAP) is helping with groceries, and Medicaid is providing much-needed health coverage as First grapples with a gastrointestinal problem that has gradually worsened and left her unable to work.
Through the years, First has worked as a phlebotomist and in customer service. She lost one job early on in the COVID-19 pandemic when her employer, a door-servicing company, lost business quickly as employers closed offices and went to remote work.
When she reflects on all the services she has received through the years, First considers it a positive experience, "especially when you can go and ask someone for some type of assistance, and know that you need it, and not having it thrown back in your face or you have to owe for it or anything like that."
There is room for some improvement, First said, such as increasing monthly SNAP benefits and extending WIC eligibility until children are in their teens. She also senses a bias against single-child households.
"When you go ask for assistance, and you only have one child, they seem to give you the bare minimum or not take you as seriously because they feel like, 'You only have that one responsibility — what's the big deal?'" 
First said struggling families and individuals could also use additional legal representation. First is trying to resolve several traffic citations, many incurred for lack of registration or insurance when she and Luster were homeless.
First is without a car now, her last one was repossessed several months ago when she fell behind on payments. She and her daughter sometimes have to rely on costly ride-hailing services to get around, so First said a program that provides vehicles would be much appreciated.
"Nothing fancy, nothing new, just a reliable vehicle," she said. "To stay afloat (in the Kansas suburbs) you need a car."
---
Child Care Expense Troubles Immigrant Couple, Single Mom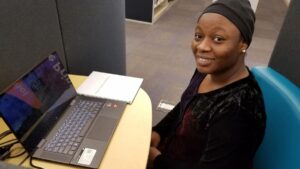 Sholabomi Popoola, 37, a working mother of three elementary-school-aged children, packs a lot into her schedule, including carving out library time during the day for her nursing school studies. Popoola, who is expecting her fourth child in May, stayed home with the children when they were young because childcare was too expensive.
The math didn't add up for Sholabomi Popoola and her husband.
They were looking at weekly child care expenses of $1,000, which was about equal to what Popoola was making every two weeks as a nursing home caregiver while her husband was working as a janitor for the Shawnee Mission school district.
So the couple decided she would stay home with the kids while he worked during the day, and they would reverse roles in the evening. "That is how I turned myself into a night worker," Popoola said.
The arrangement came after maddeningly unsuccessful attempts to get a child care subsidy through the state.
One Catch-22 came when officials said the family did not qualify because Popoola was staying home with the kids, but the only reason she was doing that was because the subsidy was unavailable.
And then, after both of them started working full time, the agency said they were earning too much. She was making $12 an hour, and he was making $14 an hour.
"For them, they think we were making too much," Popoola said, "but for us, we were struggling."
The couple lives in Kansas City, Kansas, having moved there recently from Overland Park. Their three kids are all now in elementary school. Popoola is expecting their fourth child in May, and it is her understanding that child care assistance will be available through a state program assisting working students.
The 37-year-old Nigerian native, who emigrated to this country in 2014 and followed her husband to Johnson County a year later, considers the U.S a welcoming land of opportunity — even as she wages another bureaucratic fight to qualify for state tuition assistance for college.
She and her husband are both in nursing school, relying on public assistance to become a self-sufficient family helping to solve the shortage of health care workers in the state. 
Popoola plans to continue advancing through nursing school, even after the new baby arrives. "When I am hell bent on doing something," she said, "I don't go back."
Popoola's child care experience is not unique, as 34-year-old Emily Pounds can attest.
The cost of child care was such a stressor for Pounds that she considered terminating her pregnancy because the service was going to be way too expensive for her as a single mother who worked in a grocery store bakery.
The cost could have been as much as $2,000 a week for her infant twins, but she was relieved to find out during her pregnancy that could receive services through Growing Futures Early Education Center in Overland Park. She lives with her parents in Mission, and loves being a mom to Rosalina ("Rosie") and Oliver ("Ollie").
"The idea of not having had them just because I didn't know what I was going to do about child care is really sad to think about," Pounds said.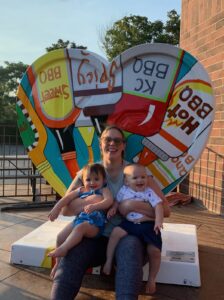 Emily Pounds, 34, holds her twins during their 1-year birthday celebration on Sept. 8, 2022, at Rosedale Bar-B-Q in Kansas City, Kansas. On the left is Rosalina ("Rosie") and Oliver ("Ollie").
Pounds has an undergraduate degree in geography from the University of Kansas, and her plan is to become a teacher like her mother and two sisters. Pounds hopes to enter an online master's degree program through Kansas State University in the spring.
She likes kids and has worked in schools before as a paraprofessional, but child care is also factoring into Pounds' career decision, knowing that she can be with the twins during school breaks.
Pounds has no answers on how to fix the high cost of child care, but she said, "If it is so financially devastating for families just to try and get child care until their kids can go to free public school, then there is a problem."