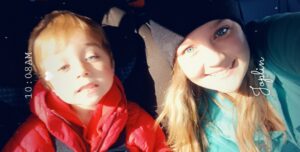 Kayla Durham and her son, Brayden, set off from Joplin last month on their way to a pre-Thanksgiving trip to see the holiday lights at Silver Dollar City in Branson.
When Kayla Durham arrived at River of Refuge in April, she was about $4,000 in the hole between unpaid bills, court costs, and legal fees. She left seven months later with all those debts paid off and a little more than $6,000 in savings.
Durham, 25, dropped out of Lee's Summit High School as a junior, beginning eight years of couch surfing and drug addiction. A couple months in jail last year, when she was separated from her toddler son, Brayden, finally convinced Durham to turn her life around.
She began to get a handle on her finances after jail while at Starfish Transitional Living in Kansas City, Missouri. She saved enough for a good deal on a late-model Mercedes from her cousin, but it was River of Refuge that drilled home the difference between a want and a need.
Not too long ago, she probably would have told you that getting her nails done regularly was a need. River of Refuge taught her that the better decision was plowing that $100 or so a month into savings.
"When I got there, I absolutely had no sense of financial anything," Durham said. "I came from a life of not having any money, and money that I did have wasn't invested in anything good, so being there, I was able to learn how to not blow it on everything."
And with Christmas right around the corner, Durham has paid her bills before buying presents for Brayden, who is now 2 years old. She rethought a splurge on a $70 play kitchen in favor of several smaller items, and she has gradually bought gifts with money set aside from each paycheck.
Durham had a terrible relationship with her mom and stepdad, which is why she dropped out and left home. She wants a different life for Brayden; his dad is not in the picture.
Durham is working a warehouse job now. It pays the bills, but she wants to earn a high-school-equivalency degree and find a job working with kids.
Even now, Durham said she and Brayden are living their best lives.
She is thrilled to be keeping a roof over their heads by renting a house in Independence. It's a far cry from the days of seeking the next high and worrying about being kicked out of the place she was crashing. This newfound sense of responsibility has not overwhelmed her, as she feared.
"It's the first time I feel like I am doing something right by my life," she said.